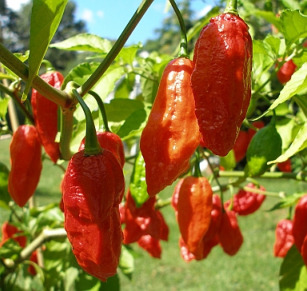 sa·do·mas·och·ism
: the derivation of pleasure from the infliction of physical or mental pain either on others or on oneself (Merriam-Webster's Medical Dictionary, © 2007)
'"It's fun," as one chili pepper expert wrote, "sorta like a night out to watch someone being burned at the stake." '
(Gorman, 2010).
Only a psychotic few thrill and pain-seekers dare to even approach the legendary bhut jolokia, otherwise known as the 'ghost chile' or naga jolokia, outside its natural home in the Indian and Bangladeshi countrysides; the first taste of the thin pepper whose size reaches no longer than a pencil slowly crawls over your taste receptacles with no warning of the strike to follow; after a moment the floodgates are opened in an orgasmic rush of endorphins as the heat sizzles over your tongue, and depending on the intensity, down your throat clawing its way into your belly. Your brain quickly mixes itself a unique chemical cocktail of anguish and euphoria, and perhaps for just a moment as you consider running face-first into a snowbank to ease the incomparable cauterization on your tastebuds can you see through the haze of sensations to realize that the experience can only be described as a fiery high.
Sounds like it sure feels good to hurt so bad, doesn't it?
Animals other than humans would tend to disagree. Homo sapiens remain the only known creature to knowingly and willingly partake in the consumption of capsaicin- the chemical that, in a simple definition, makes spicy foods taste hot. The most intense varieties of peppers which contain much higher concentrations of capsaicin (namely, strains of jolokia chiles) have been used by the Indian military as painful grenades to combat terrorist and rioters; Indian farmers have been known to smear the searing oils from jolokia plants on fences to discourage elephants from destroying their crops- which means that this dangerous pepper is not just enjoyed as food, but engineered as a weapon!
This dynamite strain of pepper was declared the World's Hottest in 2007 by the Guinness Book of World Records, and depending on climate in which it is grown, ranges from 850,000 to over a million Scoville units. (A Scoville unit is the standard method of measurement for calculating heat ouput in chiles by assessing the amount of capsaicin contained within the fruit). Jolokia chiles shattered the old record previously dominated by the Red Savina Habanero, which weighs in at an impressive 580,000 Scoville units, and to put things into a layman's perspective, in comparison Tabasco sauce taps in at approximately 5,000 Scoville units. One might ask, how can something known to be so utterly absurd, so ridiculous in its capability and certainty to cause pain, be enjoyed, even sought after?
Thankfully, that's easily explained. Studies have shown that humans have participated in benign masochism for centuries, especially when it comes to two things- food and sex. Deriving pleasure by causing or receiving pain (with the understanding that a threshold of human tolerance exists and) remains a widespread psychological normality that has spanned continents and cultures, unifying humankind in these two basic functions of daily life. In reference to the food aspect, a recent University of Pennsylvania study put chili-heads to the test by feeding the subjects peppers, gradually increasing the level of heat, and therefore pain, to the cusp of unbearable agony and then polling them to find which level they preferred. Overwhelmingly, the results showed that the majority of the subjects experienced the greatest amount of pleasure during the bite just before the unendurable. This being noted, perhaps it's only a matter of time before bhut jolokias become almost a fashionable drug on our dinner tables.
Pain and pleasure remain synonymous only with the proper mental preparation. A slap of surprise instigates a completely different reaction than a slap expected. When one submits themselves to the fate of the following moments, pain and pleasure become blurred and can meld into a complicated dance of unique sensations previously unbeknownst to the subject. Bhut Jolokias, with their unrivaled intensity, have become the next great challenge to be conquered in the thrill-seeking foodie's world.
As jolokias begin to explode in markets all around the world, we continue to discover the human tolerance for spiciness on a sublimely cultural level. These capsaicin-jammed packets have been utilized for centuries in Indian cuisine and Americans (with our typical macho I-can-outdo-you attitude) have only begun to mass-market the item not simply as food that's not solely meant to be eaten, but vanquished into submission. Seeing as we have centuries to catch up on, Americans are woefully behind in the race to introduce this as a staple dinner item or flavor enhancer, but already hundreds, thousands, even millions have discovered the indisputable power of the jolokias. If there's anything that eons of research have taught us, it's that we as humans are gluttons for punishment: self-inflicted or not! A little bit of pain simply makes the experience that much sweeter.
Sources:
* Savuer Magazine, October 2010, page 63 "Fire in the Belly" by Suketu Mehta
* The Washington Post, February 2009, "The Pleasure is in the Pain", by Andreas Viestad
* Gourmet Magazine, August 2008, pages 42-45, 116, "Burning Love", by Tim Stark
* The New York Times, September 2010, "A Perk of our Evolution: Pleasure in Pain of Chiles", by James Gorman
* October 2010, "
Spiced Chili and Spicy Chili Peppers
" by Sarah Kaiser
* Wikipedia:
Naga Jolokia
*
The Causing of Pain to Enhance Sexual Pleasure
, author uncited
* April 2010, "
Chili-heads' seek friendly fire from powerful pepper
" by Sara Bonisteel
Image from
Hot Sauce Island